SOS Approach to Feeding – 2025
The next basic

SOS approach to feeding Conference

in Denmark will take place in 2025, October 20th-24th (5 days – 08.00-17.00 all days)
(Details regarding venue and price are not known yet – the page will be updated as soon as we know more)
Would you like to be directly noted about this upcoming event? Then register for the "updates list" here
Being on the list gives you the following:
Direct emails, when we have news about the event (time, place, price etc.)

 A reserved seat – until 14 days after the booking is open in december 2024. If you do not register within the 14 days, the seat will be open for others to use.
There are 5 videos about the course on the page – so please scroll down, if You would like to know more:-)
Upon completion of the SOS Approach to Feeding Conference, attendees will
Receive foundational information regarding feeding development, evaluation, and SOS Treatment.
Participate via live/onsite education through lectures, case presentations, and group activities.
Receive a Certificate of Attendance that is eligible for submission to Professional Organization for Continuing Education Hours earned during course. (Education credit is unfortunately not available at this conference).
Be listed on the SOS Referral List as an SOS Provider.
Conference Learning Objectives
List the seven areas of human function that need to be examined to provide a comprehensive Feeding Assessment.
Identify at least five of the oral, sensory, motor, cognitive or emotional developmental milestones key to being able to eat well.
List three reasons why children won't eat, as based on learning theory principles.
Differentiate classical and operant conditioning principles as applied to resolving feeding problems.
Identify at least four of the necessary components of an SOS Approach to Feeding program for babies, toddlers and young children in either an individual or group therapy session.
List all three requirements for building a Food Hierarchy.
Identify at least one play based strategy for progressing a child up each of the 6 major Steps on the Steps to Eating Hierarchy.
Agerange of children targeted at this basic course: primarily 1-6 year olds  but the method can be used for all ages.
Advanced online education (minor courses and mentorship) After attending this main course, it is possible to access the advanced online courses for more specialized knowledge. You can find the current advanced courses and the mentorship here: https://sosapproachtofeeding.com/sos-educational-programs/. You can only access the advanced courses after completing the main course!
Who will benefit from attending? The course is intended for all professionals, working with children having severe sensitivity, sensory motor problems, physical eating disorders and / or food phobia (not bulimia, anorexia, orthorexia etc.) e.g.: Occupational therapists, Physio therapists, Speech Language Pathologists, Pedagogues, Preschool teachers, Special Education Teachers, Registered Dietitians, Dietary Consultants, Psychologists, Early Intervention Specialists, Pediatric healthcare nurses, Nurses, Physicians, Mental Health Workers, Dental hygienists.
Note: The conferences are created for professionals. If parents wish to attend the training workshop, they must be accompanied by their child's feeding therapist.
Presenters: (The SOS team reserves the right to change the teachers – the programme is of course exactly the same).
Dr. Kay A. Toomey, PhD – Pediatric Psychologist; President of Toomey & Associates, Inc.; Clinical Consultant to the Feeding Clinic at STAR Institute for Sensory Processing Disorder.
Dr. Erin S. Ross, PhD, CCC-SLP – Neonatal and Pediatric Speech Pathologist; Assistant Clinical Professor at University of Colorado; Faculty at Rocky Mountain University of Health Professions; President at Feeding FUNdamentals, LLC.
Venue: Yet to be found – but will be near Copenhagen so there is easy access by plane / train / car.
External course: This basic course is an external course – so Acommodation is not included in the price. This allows participants to choose their place of residence.
Language: American english – the presenters are easy to understand. As there will be no interpretation into danish, we will provide a small photocopied dictionary with most of the special words used at the course. A good advice for participants with English being the second language – and a bit rusty: See some online english spoken webinars, listen to english podcasts or an audiobook (preferably clinical), online lectures, films (hide the subtitles) etc.  right up to the course – so your brain is toptuned for all the very important information given in the 5 days. You can also read something in english – preferably something clinical.
Preregistration and updates list
Preregistration SOS Approach to Feeding 2025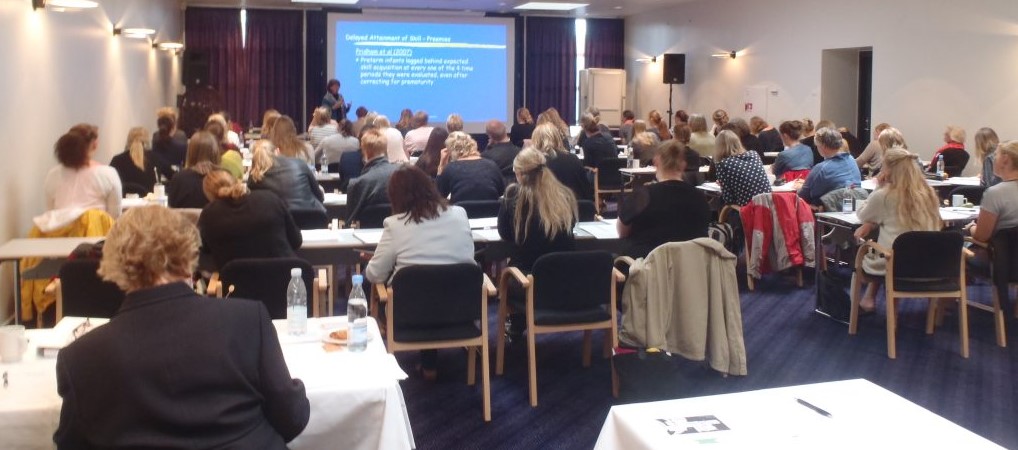 1. time in Denmark – 2016 in Odense:-)