SOS4TOTS Tethered oral tissues – a 1 day multidisciplinary course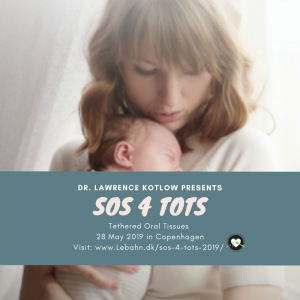 This One Day course is specifically designed for Dental practitioners, dental technicians, ENT doctors, Physicians, IBCLC's, Lactation Consultants Bodyworkers, Speech Pathologists, Occupational Therapists and fellow allied health providers who are seeking to broaden their knowledge in understanding and assessing Tethered Oral Tissues (TOTS).
SOS 4 TOTS is an important 1 day course for all professionals,
treating children who have feeding, eating, mouthbreathing
and/or sleeping difficulties – aswell as dental/mouth problems such
as crooked teeth/dental crowding, deep bite, over bite and cross bite.
Learning objectives:
Correcting all the myths and unsupported comments concerning TOTS
Evidence based medicine vs Scientific Plausibility
Learning how to identify, diagnose and treat TOTS
Why correcting TOTS is just not for breastfeeding
Understand the tongue is an organ, not just a muscle
Using the safest and best technology to revise TOTS
Involving the entire breastfeeding team to help mothers and infants
Interested? Want to know more?
look here
See all 5 events (symposium and 4 multidisciplinary courses) in 2019 here.