SOS approach to feeding – october 2019
Who can participate: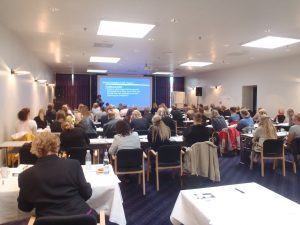 The course is intended for all professionals, who work with children and adolescents with severe sensitivity, sensory motor problems, physical eating disorders and / or food phobia (not bulimia, anorexia, orthorexia etc.) e.g.: occupational therapist, physiotherapist, healthcare professional, nurse, doctor psychologist, psychologist, speech therapist, educator, social worker, dietitian, dietary consultant, dental hygienist / dentist, specialist day care.
Number of participants: max. 150
Teaching: 4 days course in English (8:00 am to 5:00 pm, Days 1-4)
IMPORTANT: Participants are expected to attend the course for the entire length of each day – in order to receive their Certificate of Attendance and their full credits.
Participants will miss crucial information needed to be able to correctly use the SOS Approach to Feeding program if they come late or leave the course early.  Please make all travel arrangements to ensure you do not arrive late or need to leave early on any day.
Presenters:
Kay A. Toomey, PhD (Pediatric Psychologist; President of Toomey & Associates, Inc.; Clinical Consultant to the Feeding Clinic at STAR Institute for Sensory Processing Disorder)
Erin S. Ross, PhD, CCC-SLP (Neonatal and Pediatric Speech Pathologist; Assistant Clinical Professor at University of Colorado; Faculty at Rocky Mountain University of Health Professions; President, Feeding FUNdamentals, LLC)
(The SOS team reserves the right to change the teachers – the program is of course the same)
Objectives:
Identify oral, sensory, motor, cognitive and emotional developmental milestones key to feeding.
Recognize and describe the major reasons why children won't eat, as based on learning theory principles.
Identify physical, behavioral, motor, oral-motor, and sensory factors as a part of a Feeding Assessment.
Apply behavioral and social learning principles, and systematic desensitization strategies to feeding problems.
Create and implement a S.O.S feeding program for toddlers and young children, in group and individual treatment formats.
Venue:
Propellen, Nordmarksvej 3, 7190 Billund
Date:
7-10. October 2019
External course:
The course is an external course. This allows participants to choose their place of residence and price – or go home every day. (several rooms have been reserved at the hotel Propellen at a discount rate – so please mention that you are attending SOS approach feeding when booking a room)
Langue:
English, the presenters are easy to understand
Registration:
Early Bird price: 9500 kr excl VAT (11.875 kr incl. VAT) until 31 January 2019, then 9895 kr excl. VAT (12.369 kr incl. VAT)
registration site SOS approach to feeding at "nemtilmeld"
Possibility of subsequent online education:
The "Advanced" courses (divided into courses of few hours duration) can be taken through webinars so that you can continue to work at home at the computer as soon as you have gone through the basic course.
OBS !! You can only access the advanced courses after completing the basic course.
Curious about knowing what they are currently offering of advanced courses?
Click here: spduniversity.org/course-list/#advanced