OMFT BASIC 2023
Da kurset afholdes på engelsk og nogle af deltagerne forventes at komme fra andre lande end Danmark, vil al tekst vedr. kurset være på engelsk. Mere viden på dansk finder du her: Hvad er OMFT
Next OMFT basic course is 22.-24.11 2023 in Ishøj, Denmark
Kurset er desværre aflyst pga. for få deltagere:-(
The course is especially suitable for: Speech Language Pathologists, ENT specialists, Buteyko teachers, Physiotherapists, occupational therapists, Dentists, Dental hygienists, Dental assistants, Orthodontists, Castillo Morales therapists, osteopaths and chiropractors.
Date: 22.11-24.11.2023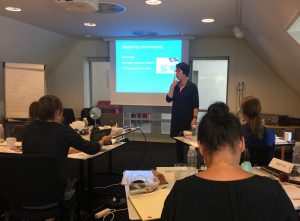 all days 09-17 (registration 1. day and breakfast 8.30 every day)
Number of attendees: 16-20
Registration: lebahn.nemtilmeld.dk
Deadline for registration: 17.5.2023
Venue: Danhostel, Ishøj strandvej 3, Ishøj 
Language: English
Accomodation is not included.
Danhostel offers a 10% discount by mentioning that you are attending the OMFT course – if you book via mail to ishoj@danhostel.dk or phone: +45 7087 6901
Food included in the course: light breakfast, 2 snackbreaks, lunch.
Evening meal is at own expence. there are several local options.
Materials included in the course:  The course syllabus in form of a physical binder.
Myofunctional therapy is the "neuromuscular re-education of the oral and facial muscles".
Orofacial myofunctional therapy is a profoundly useful treatment that may help treat the symptoms of a wide variety of health issues, from opening airways to headaches, temporomandibular joint disorders (TMJ), to poor digestion, just to name a few. It helps correcting lisps and other articulation problems correcs tongue position for chewing and swallowing. It is also a profound therapy for the treatment of mild to moderate sleep apnea, which is a pervasive problem that affects many.
The therapy includes facial and tongue exercises and behavior modification techniques to promote proper tongue position, improved breathing, chewing, and swallowing. Proper head and neck postures are also addressed. There are good studies to substantiate that it may resolve jaw problems and orthodontic relapse working in a multi-disciplinary team.
More details about OMFT: What is OMFT, Speakers homepage: www.OMFT.info
Overall content
Anatomy and Physiology of the oro-facial complex
Relationship between speech-pathology, dentistry, orthodontics, ENT problems related to OMFT, gnathology and the importance of this knowledge in relation to diagnostics and therapy of oro-myofunctional dysfunctions
Types of Oro-myofunctional dysfunctions
Practical exercises in training with the Force scale, Payne technic and Myoscanner
OMFT-protocol: Practical training with all logopedic exercises to be used for the treatment of oro-myofunctional disorders
Review of a lot of OMFT cases and discussions how to treat them properly
Practical training in recognizing deviate dental form due to deviate function
If possible clinical training with some Local OMFT-patients (brought in by the participants)
The skills of the participants after the course
diagnose whether there is a myofunctional problem or not
measuring lip pressure the patients by means of a Force Scale
make tongue position at rest and after swallowing visible by means of Payne Paste
diagnose which classification of tongue according to Kotlow the patient has. So, when to refer or not for surgical correction
we learn a protocol to follow for all the exercises for a patient
we learn all the exercises needed for this protocol
we learn to see the difference of a skeletal and functional problem
we learn if and when to refer to an orthodontist for palatal expansion
we learn to cooperate with orthodontists and the need and value of cooperation
we learn a protocol needed for correct pictures, needed for the treatment and your patient records
we learn when to use a trainer (an appliance to help to correct the rest position of the tongue and to swallow correct, as well to improve lip pressure. Moreover, when NOT use
we learn when, which and how to use plasters to seal the lips
Detailed program
First day
• Introduction OMFT
• Diagnostics in OMFT
• Force-scale in theory and every day practice
• The cause of the deviate swallow
• The tongue tie
• How to measure the tongue tie? Practical exercises
Second day
• Basic knowledge dentistry
• Payne-techniek in theory and every day practice
• Photography in OMFT (How do you take good pictures and how can you edit them)
• Angles classification incl. pseudo Class II and III
• What does your dentition looks like? (practical exercises)
• The use of Trainers/Myobraces in every day practice
• Does the Myobrace Fit or not?
Third day
• Speech pathology, all exercises for OMFT
• How to use Lip plasters; Practical exercises
• Force scale and Payne (repetition)
• Live demonstration of clients (if there are clients available )
• View case studies and dentures: interactive lecture
• The test and discussing the answers
• Evaluation course
• Closing 3 day- basic course and certificates
Speakers
Liset Maas-Houtekamer, SLP
Graduated in 1991 at Limburg SLP school. As of February 1992, she has been working as a all-round SLP in the district of Zeeland. As of 2010 her special topic of her interests is Oro-myofunctional therapy (OMFT). She has been attending a lot of post-graduate courses in this field. In June 2015 she was registered as the first SLP in the Netherlands with her work primairily limited to
OMFT. In September 2014 she opened a branch office in Middelburg where her work is limited to OMFT.
Dr. Berry Verlinden, Dentist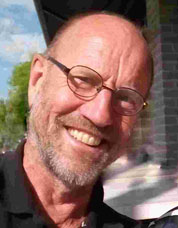 Prostodontist, Implantologist, Fellow Int. College of Dentists, Lecturer Myofunctional Studies. After graduating Dental School at Utrecht University, he started a office for Integrated Dental Services, specialised in Gnathological, Prostodontic and Functional Problems. He had a private clinic for Implantology. He was Secretary of the Board of Dutch Society of Postgraduate Courses in the Netherlands.